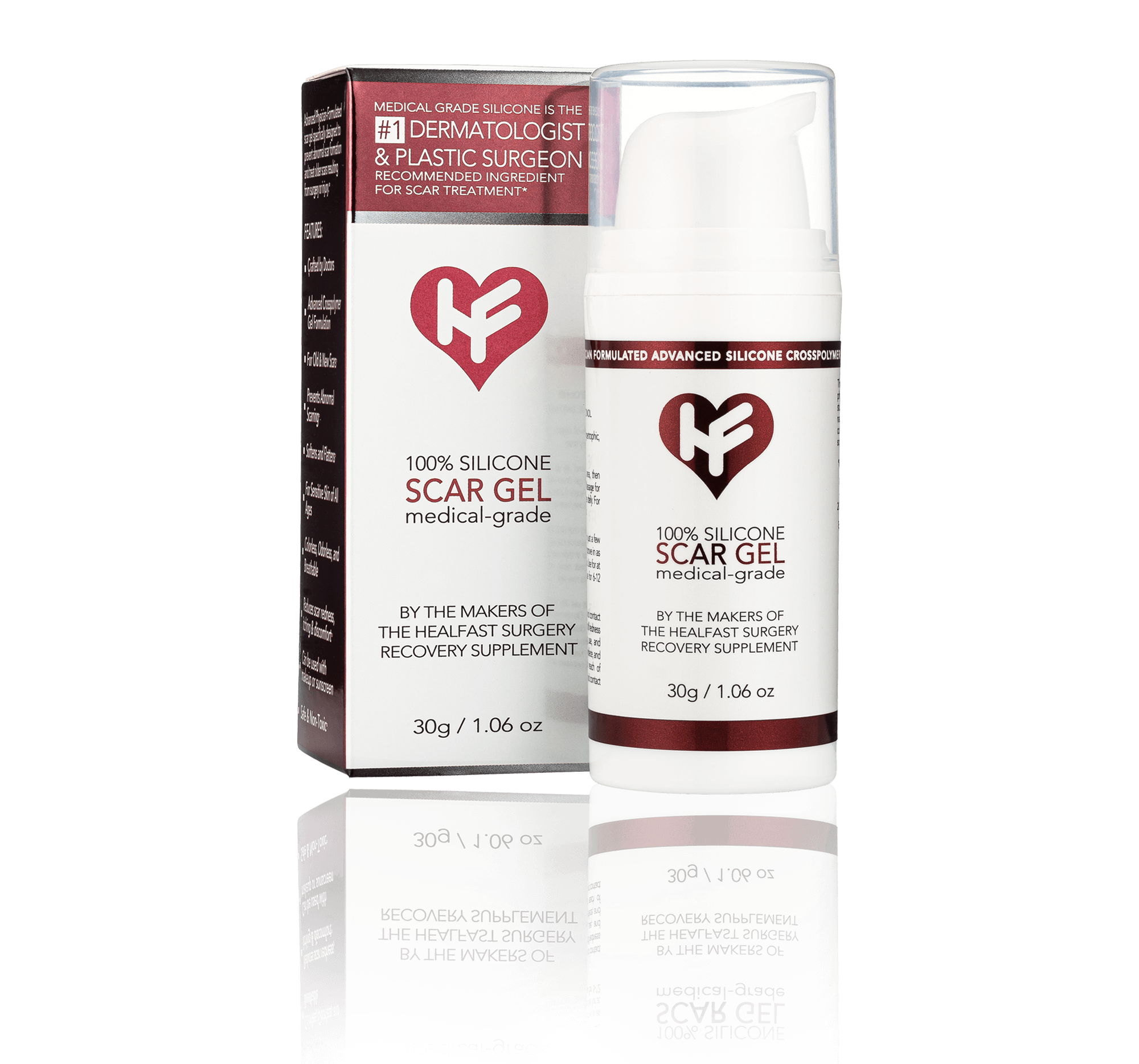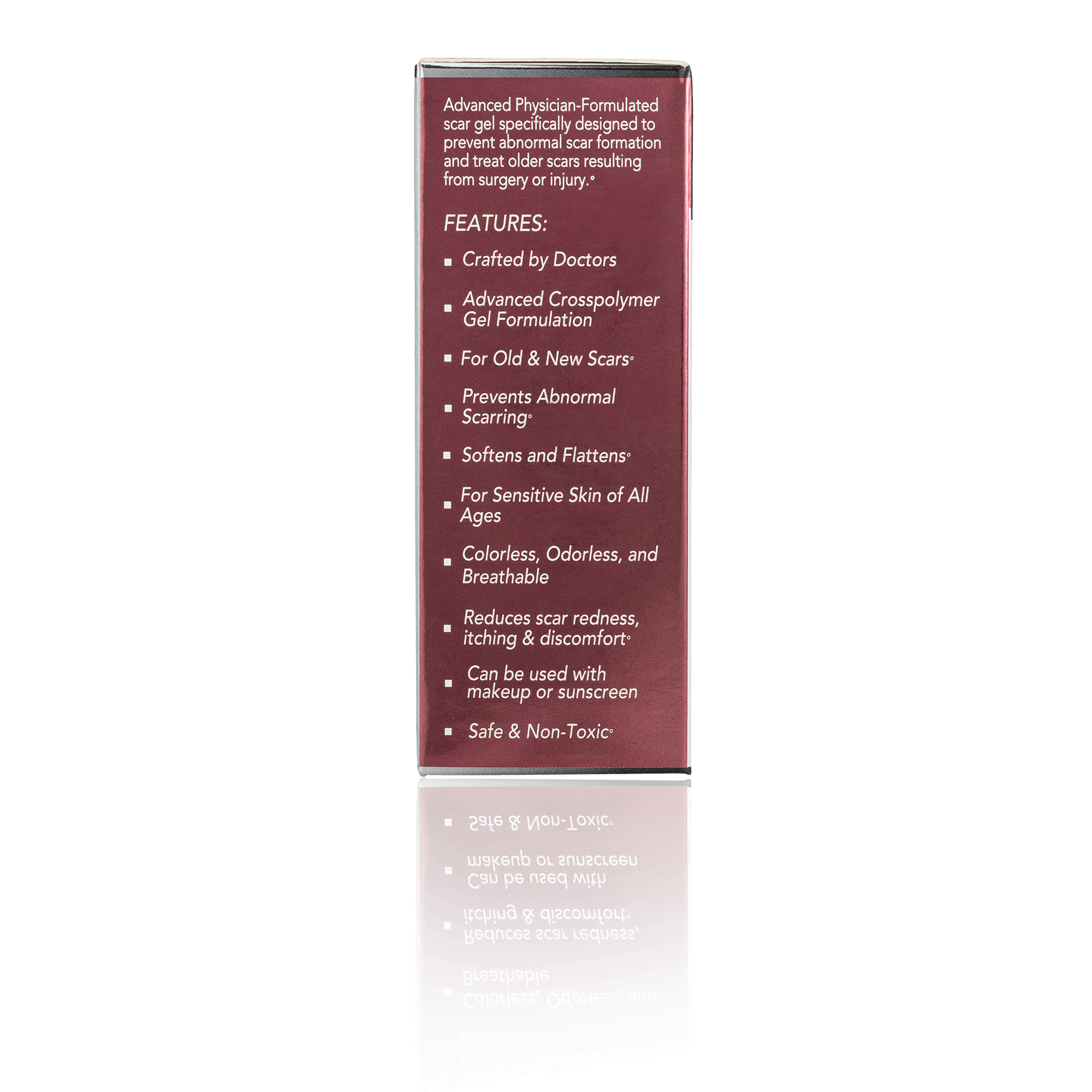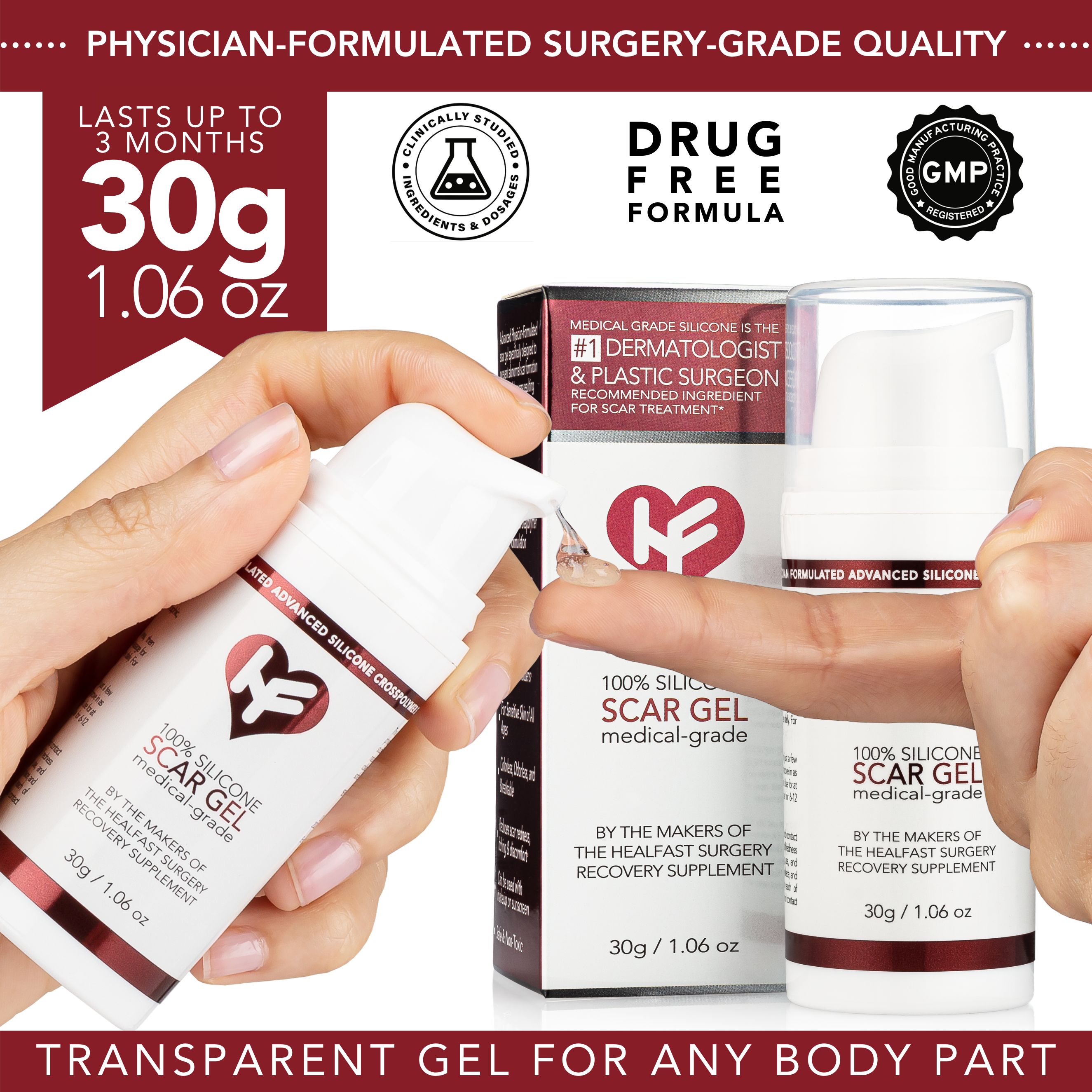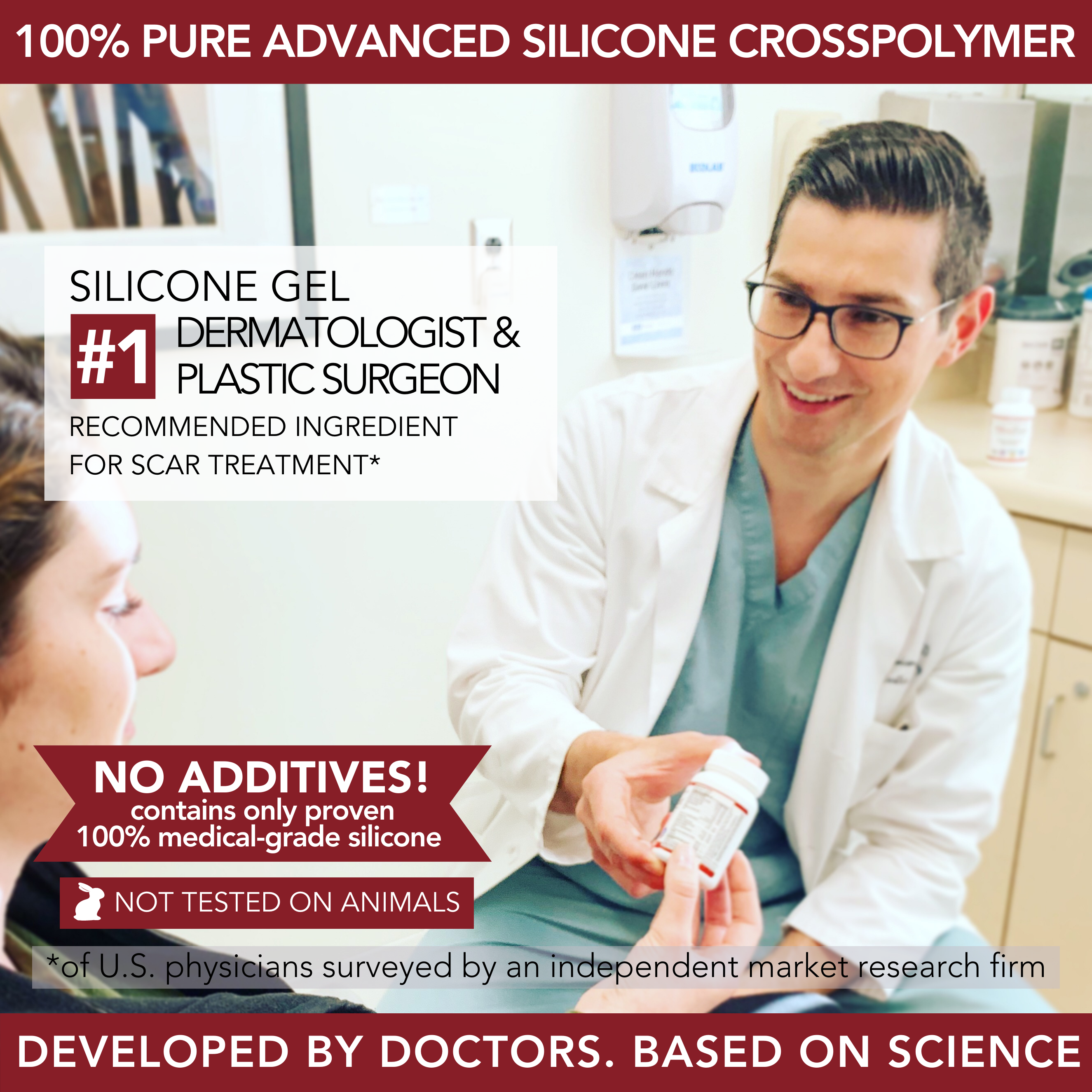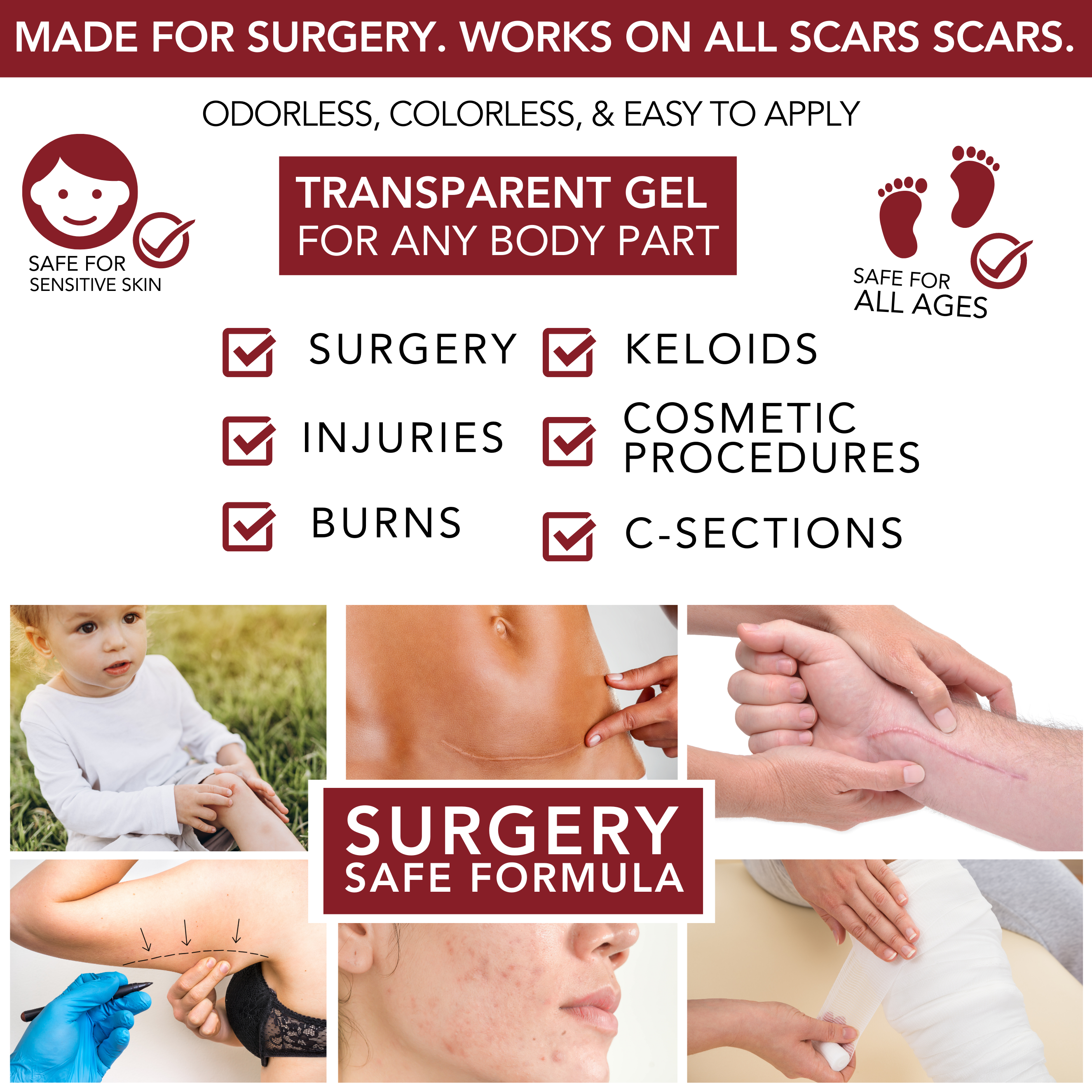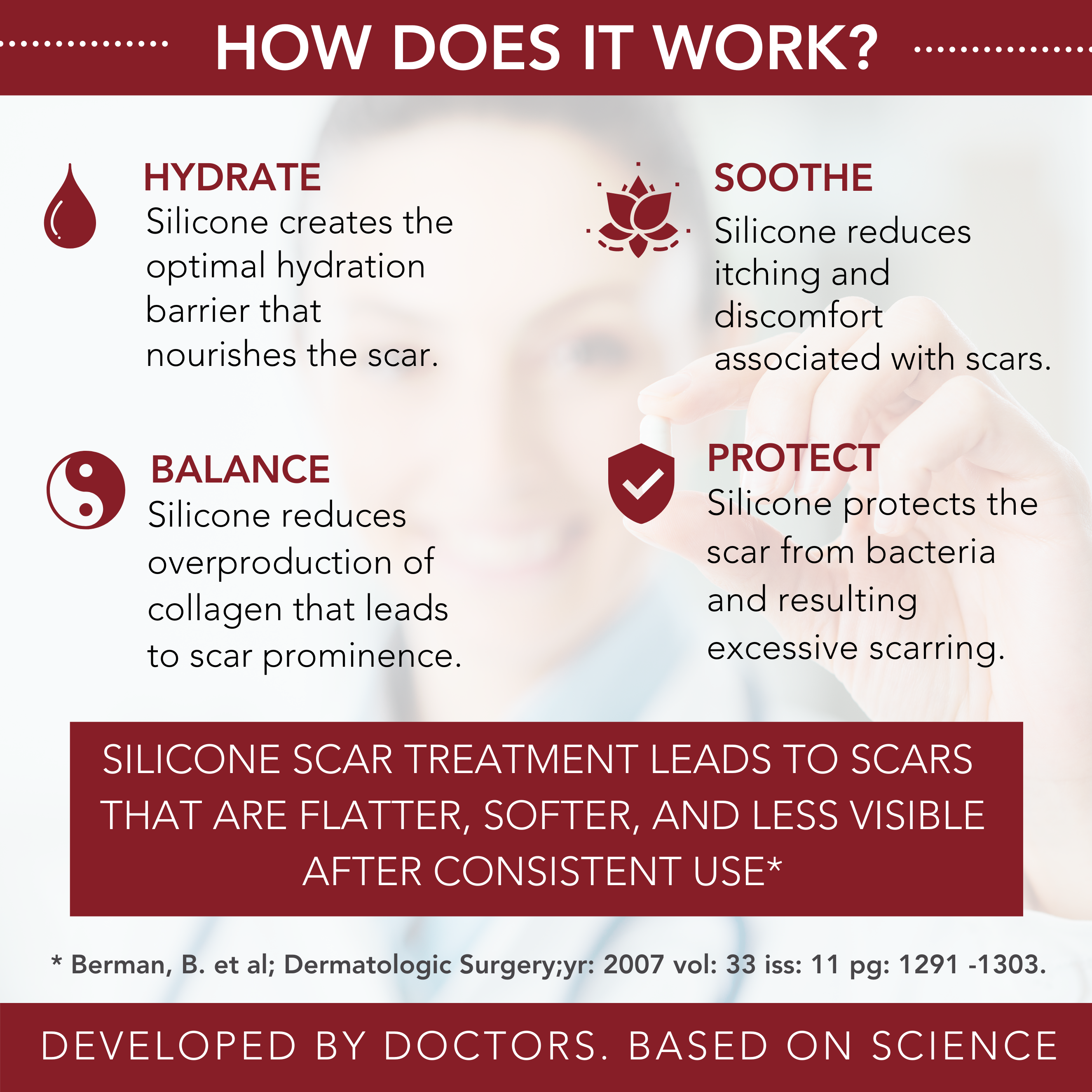 WHY IS IT GOOD FOR YOU
+
Advanced Crosspolymer Silicone Scar Gel | #1 Recommended Ingredient by US Physicians surveyed* for scar reduction from surgery, injury, acne, C-Section, pregnancy, and more.
INGREDIENTS
+
Medical Grade Silicone - The #1 Dermatologist and Plastic Surgeon Recommended Ingredient for Scar Treatment
Silicone Scar Treatment leads to scars that are flatter, softer, and less visible after consistent use. No additives only 100% medical-grade silicone.
MEDICAL GRADE SILICONE IS THE
#1 Dermatologist and Plastic Surgeon
RECOMMENDED INGREDIENT FOR SCAR TREATEMENT*

*Of U.S. physicians surveyed by an independent market research firm.
** Berman, B. et al; Dermatologic Surgery;yr: 2007 vol: 33 iss: 11 pg: 1291 -1303.
Ingredients Detail
Medical Grade Silicone - The #1 Dermatologist and Plastic Surgeon Recommended Ingredient for Scar Treatment
SHIPPING INFO
HealFast, true to its name, is all about getting you your program fast! We have great shipping partners who are Amazon Prime Approved and can process an order in under 6 hours! Our 2-day domestic shipping forms the foundation of our speed while our reach includes over 75 countries globally! We'll have you covered in your time of need!
RETURN & REFUND POLICY
Your satisfaction is 100% guaranteed. Return the bottle within 60 days of purchase, opened or unopened, and we will process your full refund!
Instructions

USE: Intended for use of closed hypertrophic, keloid, acne, and surgery scars. For new scars, use as soon as the wound is closed or sutures are removed.

DIRECTIONS: Clean and dry skin area. Apply a small amount of gel on and around the scar area, then massage for 3-5 minutes. Apply 2-3 times daily.

RESULTS: Scar softening may occur in just a few days. Texture and appearance may improve in as little as 4-8 weeks, longer in older scars. Use for at least 60-90 days. For best results, use for 6-12 months. Individual results may vary.

WARNING: For external use only. Avoid contact with the eyes or mouth. Do not ingest. If redness or allergic symptoms develop, stop use, and consult your doctor. Store in a cool, dry place, and avoid direct sunlight. Keep out of reach of children.
Reduces redness and discomforts
ASSOCIATED WITH HYERPROLIFERATIVE SCARS*
RESULTS IN AS LITTLE AS 4 WEEKS
100% PURE MEDICAL-GRADE SILICONE
We only include what's been scientifically proven.
No extra additives that you don't need.
ODORLESS, COLORLESS, & EASY TO APPLY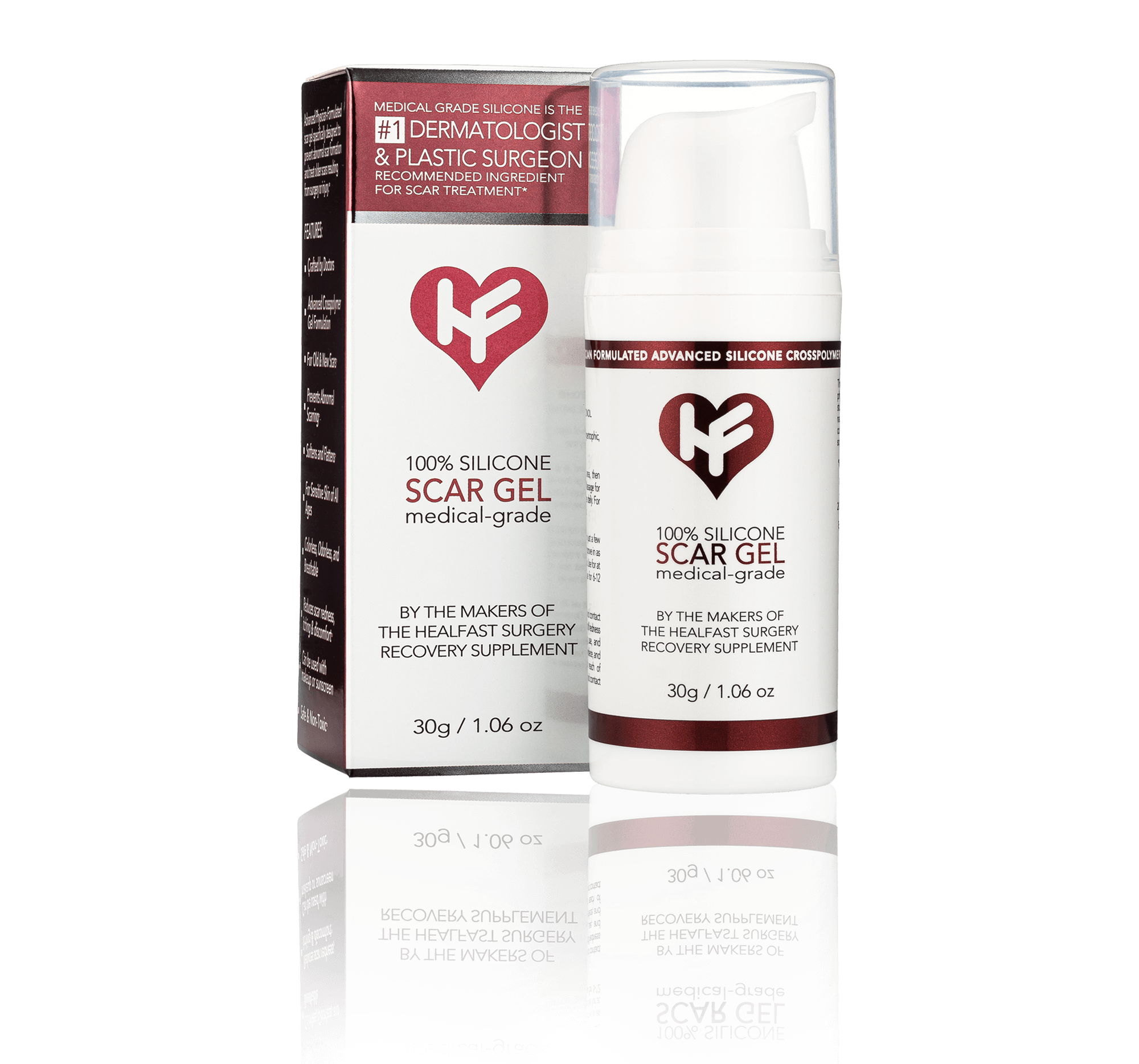 Physician Formulated Medical-grade Silicone Scar Gel WS
Regular price

from $12.99 USD

Sale price

from $12.99 USD
Benefits of HealFast's Ingredients
Click anywhere on the icons to see benefits.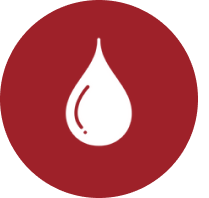 HYDRATE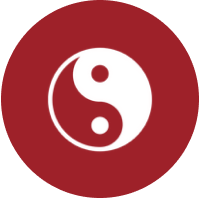 BALANCE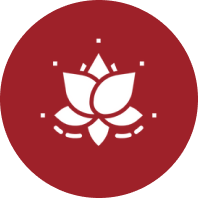 SOOTHE
PROTECT
The advanced medical-grade silicone in our physician formulated scar gel has been clinically studied to*:
Hydrate scar tissue and create a natural barrier*
Reduce appearance and redness associated with scars*
Manage overproduction of collagen*
Flatten, soften, and reduce visibility of scars with consistent use*
See what doctors say
"
Pure silicone crosspolymer is the main ingredient in HealFast Scar Gel and one of the few therapies for scars that has consistently been proven in multiple studies to help minimize scars.

Dr. Jason Roostaiean, M.D.
Plastic Surgery
"
Topical silicone gel has demonstrated efficacy in improving hypertrophic scars in a number of high-quality studies and is supported by level I evidence.

Dr. Jessica Chang, M.D.
Plastic Surgery
"
"HealFast Scar Gel is a pure formulation of silicone specially made for treatment of scars. It is created by doctors using only the top scientific evidence to optimize scar healing"

Dr. Aalap Shah, M.D.
Aesthetic Medicine
"
"Silicone scar gel is proven to be an effective scar therapy. HealFast did a great job creating the product according to the latest and most conclusive science."

Dr. Myro Figura, M.D.
Anesthesiology
"
"Silicone is the most evidence-based ingredient for scar treatment. HF Scar Gel encompasses exactly that, it contains pure medical-grade silicone with no additives. No marketing gimmicks."

Dr. Dan Gould, M.D., Ph.D.
Plastic Surgery
"
"I've been treating scar for decades. Simply put, HF Silicone Scar Gel has everything you need. Start it early, and be consistent. You will see results"

Dr. Natalya Reznichuk, M.D.
Aesthetic Medicine
Reduces redness and discomforts
ASSOCIATED WITH HYERPROLIFERATIVE SCARS*
RESULTS IN AS LITTLE AS 4 WEEKS
100% PURE MEDICAL-GRADE SILICONE
We only include what's been scientifically proven.
No extra additives that you don't need.
ODORLESS, COLORLESS, & EASY TO APPLY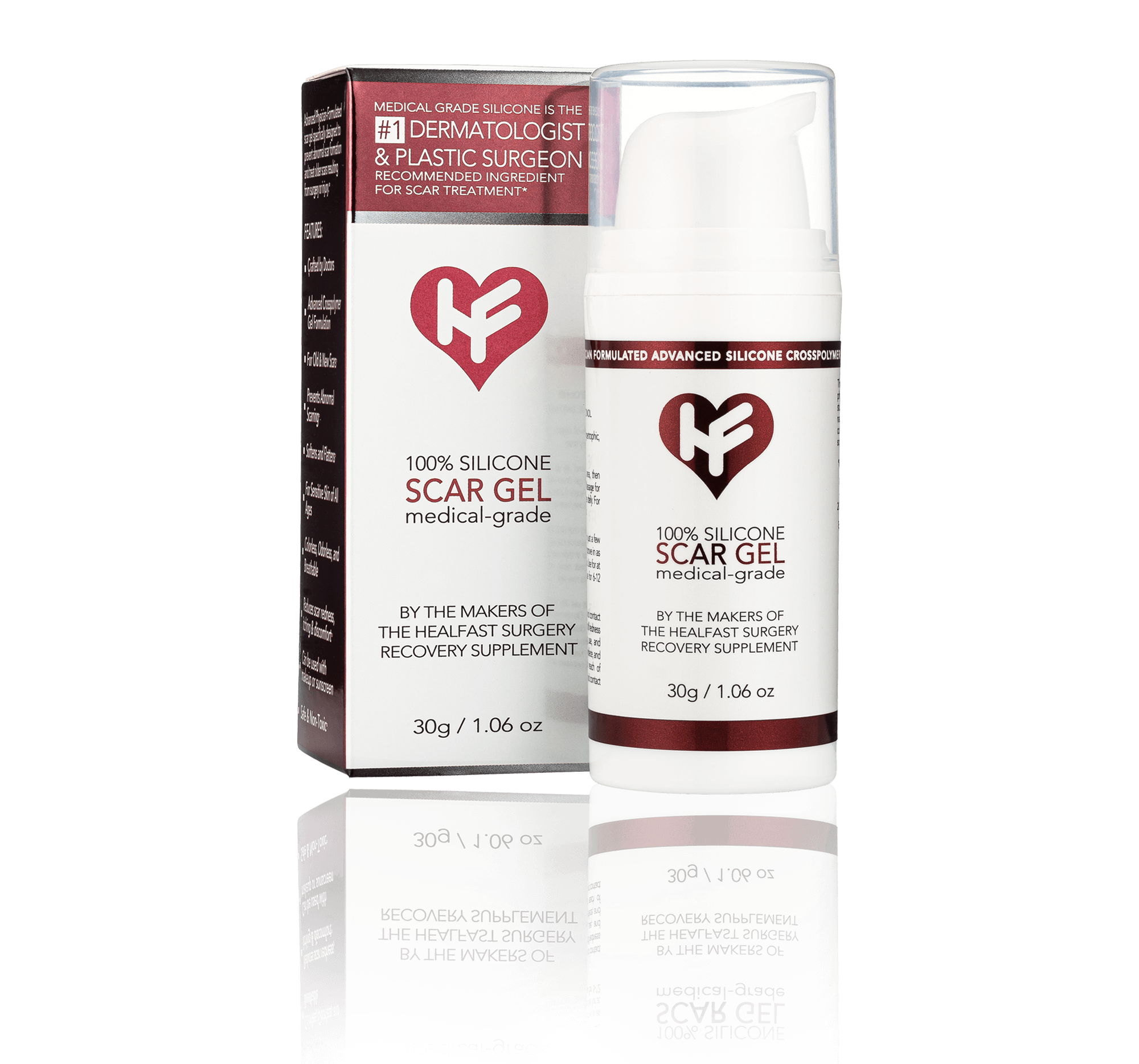 Physician Formulated Medical-grade Silicone Scar Gel WS
Regular price

from $12.99 USD

Sale price

from $12.99 USD